After listening to a couple of recent podcasts by 'experts' in crime and psychology, it has become clear that there is still, nine years later, astounding ignorance of the case of the murder of Meredith Kercher.  Of course, a recent biased netflix documentary created by long-time Amanda Knox advocates doesn't help.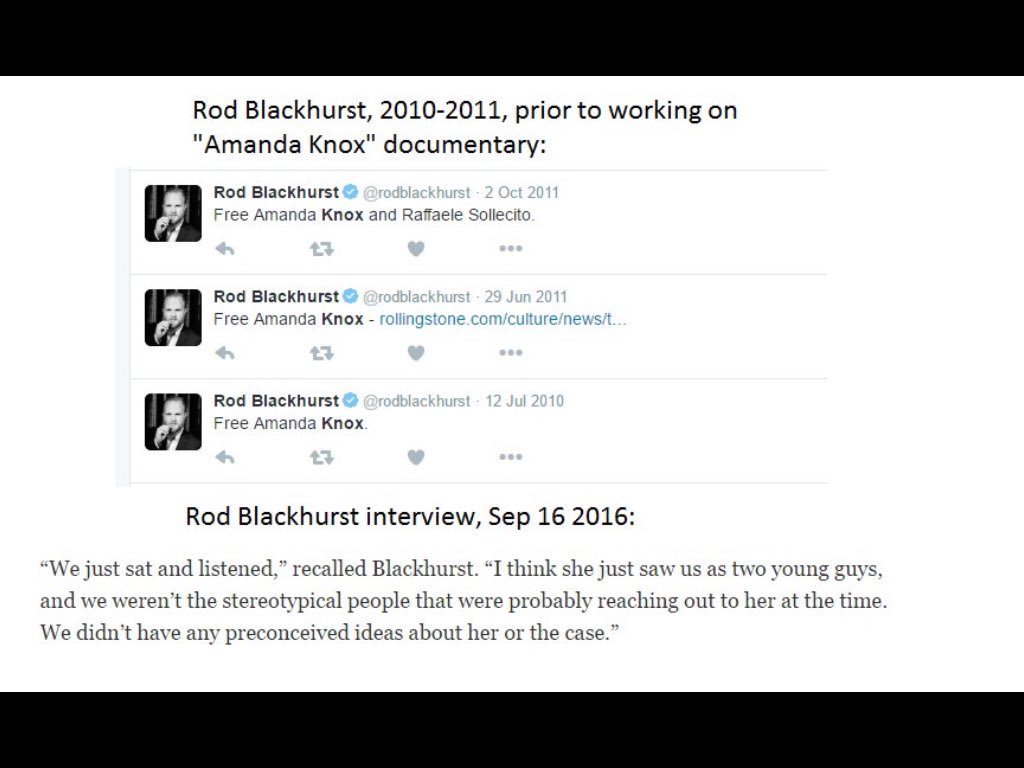 The PR talking points, created by the public relations firm hired by Amanda Knox's father a few days after Amanda's arrest in 2007, are all being repeated without any research.
Thankfully we have the rich resource of factual information,  translated trial transcripts and court judgements translated from Italian by volunteers at www.themurderofmeredithkercher.com.  It behooves anyone who portrays themselves as professionals or experts to read through this website before pontificating on this complex murder case.
Below are just a few facets of the case that are not being discussed intelligently by many podcasters:
On the morning of Nov 1, 2007, Amanda found the front door wide open, blood in the bathroom and assumed "someone" had menstrual issues.  It is important to note that only Amanda and Meredith used the smaller bathroom so if the blood wasn't from Amanda (we know now that some of it was – Amanda's blood on the faucet) the other blood could only have been Meredith's.  Even knowing this, Amanda felt absolutely no concern for Meredith and never checked to see if she were home and all right.
I saw that the door was open. And I thought, strange, because usually we had to lock that door, but I thought, if someone didn't close it properly, obviously it would open. I thought maybe someone had gone out very quickly, or just downstairs to get something, or to take out the trash, or something. When I went in, I called out "Is anybody there?" and no one answered, so I closed the door, but I didn't lock it, because I thought maybe someone would come, maybe they had just gone out to get cigarettes or whatever.

Then I went into my room, um, and I changed, well no, I made a mistake, I went into the bathroom. I had these earrings, I had a lot of them, I like earrings, I had had them pierced recently, and I always had to wash them carefully because one was a little infected, and I had to take the earrings out and clean the ear, and that's when I saw some drops of blood on the sink. At first I thought they had come from my ears. But then when I scratched the drops a bit, I saw they were all dry, and I thought "That's weird. Oh well, I'll take my shower."

Then when I got out of the shower, I saw that I had forgotten my towel, so I wanted to use the bathmat to get to my room, and that's when I saw the bloody stain that was on the bathmat. And I thought "Hm, strange." Maybe someone had a problem with menstruation that didn't get cleaned up right away. I used the mat to kind of hop over to my room and into my room, I took my towel, and I used the mat to get back to the bathroom because I thought well, by now…then I put the mat back where it was supposed to go, then I dried myself, put my earrings back, brushed my teeth, then I went back into my room to put on new clothes,
Amanda follows this by saying that she allegedly blow dried her hair, saw feces in the toilet of the larger bathroom, then grabbed a mop and ran to Raffaele's place.
Another talking point I heard in a recent podcast, was the false accusation that there are professional trolls

for both side

of the Amanda Knox case.  The podcasters, who displayed major gaps in their knowledge of the case, said with certainty that both sides had full-time PR people on social media.  This is untrue.  Only Amanda Knox's father hired a PR firm, Gogerty Marriott.  This was widely published in multiple news sources at the time, including the New York Times.
"The Knox family hired a public relations company specializing in crisis management soon after Ms. Knox was arrested in 2007″
Knox's trolls, ostensibly hired by her PR Firm, covered social media and news commentaries to spread pro-Knox propaganda and lies.  These trolls often crossed the line, harassing people's family members, tweeting pictures of Meredith Kercher's corpse and harassing the victim's family.  To this day pro-Knox trolls leave comments attacking the Kercher's and trying to blame them  for Amanda Knox's and Raffaele Sollecito's convictions in courts of law.
Another mistruth some podcasters spill is accusing one of the prosecutors (there were several in the case) of believing the murder was an act of Satanism.  This is categorically untrue. This is one example of a pro-Amanda Knox public relations myth which has been spread by people who dislike  Dr. Giuliano Mignini for personal reasons or because they are hired PR shills.  Unfortunately, ignorant podcasters have latched onto this slanderous story and repeated it without fact checking with reliable sources such as court documents (where nothing of the kind is mentioned.)
There are many more fallacies being spread on these podcasts, but I will end this short article with an omission that I find interesting.  Amanda Knox has repeatedly stated over the years that she went on a 'campaign of casual sex' when she went to Italy.  She even writes about this in her own memoir:
" Her newest cause was to convince me to give casual sex a chance. I'd heard the same thing from other friends. It seemed to make some sense. I yearned to break down all the barriers that stood between me and adulthood. Sex was a big one—and the one that scared me the most." (WTBH Chpt 1)
Curiously this is never mentioned in recent podcasts or the netflix documentary about her. For the record, in her memoir Amanda claims to have had a lifelong total of four lovers before leaving for Italy and in the six weeks that she was in Italy had four more.
No one seems to want to address this in their podcast, preferring to glom onto fake PR stories.  However, many would agree that sleeping around with four different men within a month of arriving in a new country, does seem a bit – slutty.   According to one of her lovers, Elis Prenga, he sold  his story to the British tabloids, Amanda was far from 'scared' of sex.