Embed from Getty Images
Italian Supreme Court stated in final reasoning report that Amanda Knox was present when Meredith Kercher was murdered and she washed Meredith's blood from her hands as evidenced by 5 samples of mixed blood of Amanda Knox and Meredith Kercher in the smaller bathroom.
It is being reported in Italian news that the Italian Supreme court, which released a reasoning report for Amanda Knox and Raffael Sollecito's acquittal did not exonerate them. On the contrary, the ISC said that there was "strong suspicion" that Amanda Knox and Raffaele Sollecito did stab Meredith Kercher to death.
Given the plethora of evidence pointing to Knox and Sollecito's guilt, the Italian Supreme court was forced to admit that the evidence was strong in showing their participation in the murder. The reasoning report accepts the overwhelming evidence of Knox and Sollecito being at the crime scene when Meredith Kercher was murdered. The Supreme court wrote in their official 52-page report: "[Knox's] presence inside the dwelling theatre of the murder is a proven fact in the trial. . . another element against her is the mixed DNA traces, her and the victim's one, in the 'small bathroom' an eloquent proof that anyway that she [Knox] had come into contact with the blood of the latter [Kercher], which she tried to wash away herself" Cassazione 1st part of § 9.4.1 (p.25-27)
The Supreme court never states that Knox and Sollecito are innocent. On the contrary, the judges accepted the evidence against them including the slanderous accusation of Amanda Knox who falsely accused her former boss of the murder. The judges wrote, "According to the slanderous talk of Ms. Knox, she had returned home in the company of Lumumba . . ." Knox was ordered to pay Patrick Lumumba approximately 40,000 Euros, however in the almost ten years of the trial she has refused. Now that her conviction of criminal slander has been finalized by the courts, it is time for Amanda Knox to pay the court ordered fees for her criminal accusations.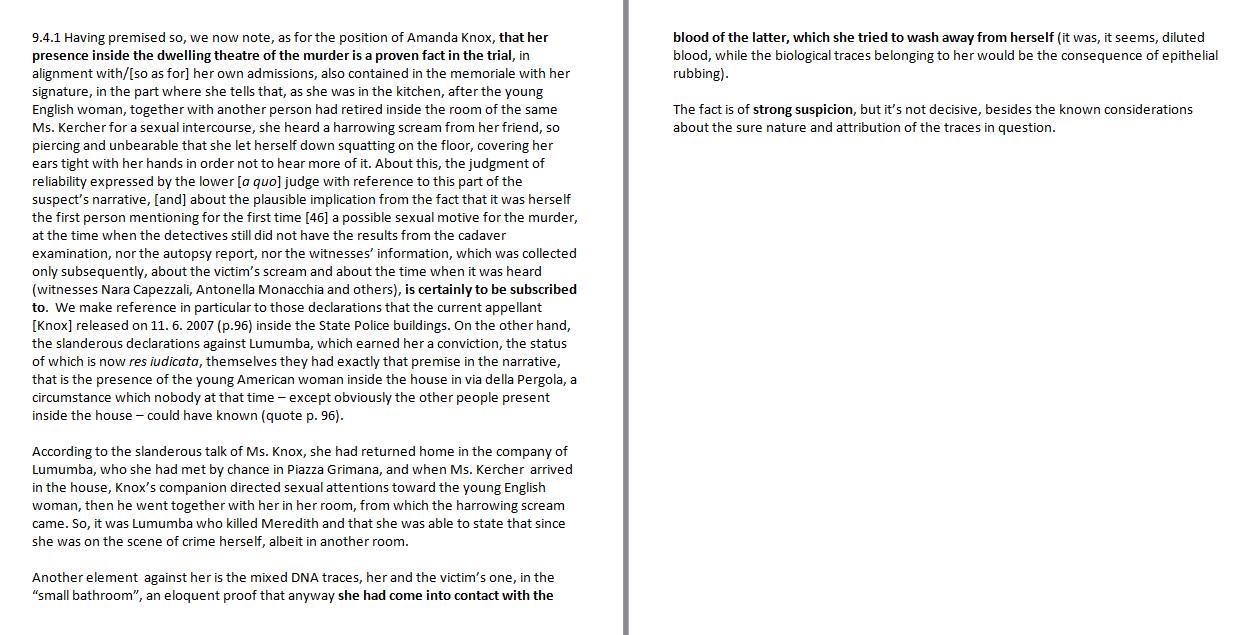 Furthermore, the Supreme court also declared that Rudy Guede did not act alone and therefore could not be the sole killer. The judges wrote, " . . . the multiple elements, linked to the overall reconstruction of events, which rule out that Guede could have acted alone . . . " (translation of Cassazione § 4.3.1 (p.25-27)
This proves that the Italian courts dismiss the accusations by FOA (Friends of Amanda Knox), and Knox herself, who have tried to pin all of the blame on the second African man Knox accused of the murder. The Supreme court has now concluded their final statement on the matter which is that he was part of a group who stabbed Kercher to death. This combined with the ISC's accepted evidence against Knox and Sollecito, the court determined that they strongly suspect that all three are responsible for the murder of Meredith Kercher.